AARF Logo Updated
In 2010 as part of our 10 year anniversary, we asked Jackie Wavrunek (who crafted the original logo in 2001) to update our logo. The new logo is similar to the old one, keeping the imagery we like: animals needing saving are on a life raft , the rising sun shows hope for their welfare and blue water representing the Caribbean.
For the new logo, we removed the goat, since AARF only deals with dogs and cats.
(AARF does not deal with farm or wild animals; the Department of Agriculture should be called for questions or issues related to those kinds of wildlife, and animal cruelty issues are covered by the Royal Anguilla Police Force or RAPF.)
So we replaced the goat with an larger and older looking dog, since we often get older animals surrendered to the shelter. And we want to convey that they are definitely worth saving and make fine pets too.
Finally, we wanted a collar, which represents our feeling that collars should be worn to identify a dog that has an owner.
We think the new logo looks great, thanks to Jackie. She also did other Anguilla designs as well as for other rescue organizations.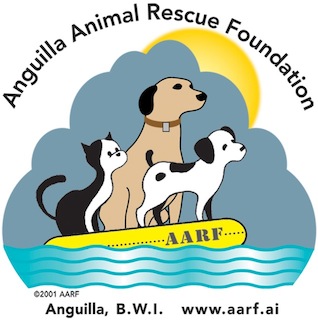 The new logo has a cat, older dog with collar and a smaller puppy on the raft. The 2001 logo had a cat, a goat and a small dog on the life raft: